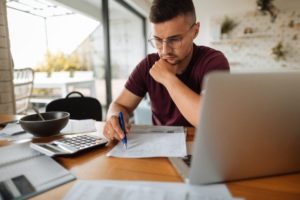 The law requires a non-custodial parent to pay a monthly allowance to help a custodial parent with child-rearing expenses. Child support is determined by a court in the state of residence. To ensure consistency in the amount of child support awarded to custodial parents, the federal government has established state-specific guidelines covering several areas. Unfortunately, the system is not without faults, assigning penalties even in cases when someone literally cannot afford to pay. You do have legal options to rectify the situation. Not everyone who refuses to pay child support is a "deadbeat". Many fail to pay child support because they simply cannot afford the premiums.
What Can I Do If I Cannot Pay My Child Support?
Your child support order does not automatically end when your source of income ends. If you are not paying, arrears (owed payments) will continue to add up until the court changes the order. You must go to court as soon as possible to file a petition explaining the change in your circumstances and asking for a modification of the order. Contact the Child Support Enforcement Office in the state where your child support order was issued. It would also be wise to consult a family law attorney who will be able to file a formal motion requesting a modification due to your changed financial circumstances. When circumstances change from your original financial report filed at the time of the divorce, you must request a modification due to the change in your financial situation. Do not just fail to make your payments because their will be negative repercussions.
What Qualifies As A Change In Circumstances?
Regardless of how bad your financial situation gets – even if you look toward bankruptcy for a fresh start – you won't be able to have child support arrears forgiven. Like back taxes and college loans, child support payments are exempt when it comes to getting rid of debt by filing for bankruptcy protection. You can request a modification to your child support order due to changed circumstances. A few examples are changes in income, loss of work, and medical expenses. It is also important to note that the receiving parent might also be able to request a modification if additional costs associated with a child's upbringing arise. The easiest way to change a child support order is for the parents to reach an agreement about a new amount. If this happens, however, you can't just shake on it and assume that's good enough. Any change to a support order must be documented in a new order and signed by a judge. If that doesn't happen, the old order remains in effect, despite your agreement.
How Soon Can A Child Support Order Be Modified?
You must wait at least six months to file a motion to modify. However, oftentimes, judges may not consider a request to modify until after a year has passed.
We are committed to helping families resolve legal challenges and get back to their lives. We offer the guidance and support that you will need when you are involved with the legal system.
Contact Us (859-371-0730) for a Consultation Today
—
About Helmer Somers Law
Helmer Somers Law helps individuals and businesses navigate the complex system of rules that accompany all legal situations. We are licensed to practice in both Kentucky and Ohio and offers flexible, affordable payment terms for our services. We welcome the opportunity to earn your trust and become your lawyer for life! It's a fact of life in the modern world. There comes a time for virtually every adult American when the services of a competent, dedicated lawyer are required. Circumstances such as divorce, bankruptcy, estate planning or an income tax audit demand that your rights be protected, and your long-term interests advocated for with diligence and perseverance. When you call Helmer & Somers Law, you can rest assured that they will be.