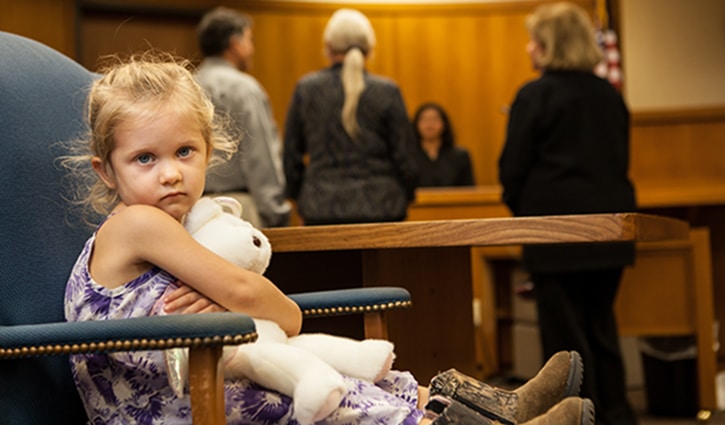 Child custody and visitation is almost always the most difficult part of a divorce for spouses with children. The Uniform Child Custody Jurisdiction and Enforcement Act discourages and criminalizes non-custodial parents from kidnapping a child and taking them across state lines and makes custody orders enforced in all states. The court determines custody and visitation rights based on certain factors…
Child Custody and Visitation Right Factors
The child's medical needs
The mental and physical well-being of everyone involved
The history of any substance abuse, criminal activity, or neglect by anyone involved
The child's emotional needs
The child's wishes
The parent's relocation plans
The desires each has for their child
The parents willingness to allow a healthy relationship with the other parent
Attorneys Protect a Parent's Desire To Have Custody of Their Children
Each parent will work with an attorney to present a well thought out and detailed case to received custody of their children. Attorneys balance the rights and needs of the clients with the rights and needs of their children. After both sides present their cases, the court will decide which parent or parents will have physical and legal custody of the child or children.
The Most Common Types of Custody
Joint physical and legal custody of both parents
Joint physical custody to both parents and sole legal custody to one parent
Joint legal custody to both parents and sole physical custody to one parent
Legal and physical sole custody to just one parent
Custody or visitation by grandparents and other third parties
Attorneys Prepare You for the Child Custody Hearing in the Following Ways
With some advanced planning by your attorney, you can present a convincing case and win custody.
Understand Your State's Child-Custody Laws – Laws vary from state to state and the fine print can be very important.
Who is the Better Parent in the Eyes of the Law? – A better parent standard comes into play when one of two parents is fighting for sole custody. For the court to award sole custody, the judge has to be convinced that one parent is better than the other. Know what courts in your state are looking for and learn how to show yourself to be the best parent for your children.
What Documents Should Be Taken To Court? – Attorneys will determine what documents to bring to the custody hearing and if they will be admissible in court. Phone logs, annotated visitation schedules, and proof of support payments could be some of the documents needed for the custody hearing.
What is the Proper Etiquette for the Court Room? – Parents need to behave appropriately in court to help their cases. Attorneys help their clients behave appropriately. Emotional outbursts and accusations can hurt a parent's chances for a good custody outcome.
Preparing Yourself for What to Expect During the Hearing – If you attorney prepares you for what to expect, your stress levels will remain low and your behavior will be appreciated by the court.
How to Dress for the Hearing – Parents only get one chance at a first impression by the judge. Formal, conservative clothing will bolster the case that you are a responsible parent.
Helping the court to decide on a proper custody and visitation order can be a very complicated and delicate situation, so it's important that you consult with an experienced local divorce lawyer!
Contact Us (859-371-0730) for a Consultation Today
—
About Helmer Somers Law
We are committed to helping families resolve their differences and get back to their lives. We help individuals and families fight for custody of children. We protect your rights as you go through divorce proceedings. We offer the guidance and support that you will need when you are involved with the legal system. We help clients with cases involving…
Divorce and legal separation
Child custody and visitation
Child support and spousal support (alimony)
Property division
Paternity
Domestic violence
Adoption
Grandparent rights
And other related issues
>> Learn More